NISSAN SKYLINE R32 GTR GUNMETAL GREY

THIS CAR IS NOW SOLD

OK HERE IS A GREAT 2013 'New Year' R32 GTR BUYING OPPORTUNITY FOR SOMEONE.

ORIGINALLY SOLD BY US JUST OVER 1 YEAR AGO TO A HAPPY CUSTOMER ... SEE BELOW.

IN THAT TIME THE NEW OWNER DECIDED TO COMPLETELY OVERHAUL THE CAR FOR PEACE OF MIND

FULLY SERVICED INCLUDING:-
CAMBELT KIT ... WATER PUMP ... AUXILLARY BELTS ... ANTIFREEZE ... IRIDIUM SPARK PLUGS ...FUEL FILTER
OIL FILTER ... DIFFERENTIAL OIL ... TRANSFER BOX FLUID ... GEARBOX OIL ... Dot 5 BRAKE FLUID
PRO 5 ENGINE OIL .. HKS AIR FILTER ... 3 X WIPER BLADES ... HKS AIR FILTER ... CAM SENSOR ... ROCKER GASKETS
UPGRADE PARTS FITTED:-
GREDDY CATBACK EXHAUST INCLUDING GREDDY FRONT DOWNPIPE.
SPEC '6 PUCK' CLUTCH KIT
SPEC FLYWHEEL
YELLOW STUFF BRAKE PADS
NEW BRIDGESTONE POTENZAS ALL ROUND

CAT 1 COBRA CAR ALARM FITTED with CERTIFICATE

THIS CAR WAS ORIGINALLY SOLD AS A VERY NICE FRESH IMPORT FROM JAPAN.
HOWEVER NOW A PROPERLY SORTED R32 GTR WITH APPROX £5000 OF RECENT EXPENSE WITH RECEIPTS.

MUST MAKE SENSE AT JUST £8,999

OR BUY ANOTHER R32 GTR AND INEVITABLY YOU WILL SPEND MONEY ON IT.

YOU CAN SEE THAT THIS IS A GENUINE CAR AND IT IS ONLY AVAILABLE BECAUSE OF SUDDEN CHANGE OF PLANS.

CAR HAS SOME ROAD TAX ON IT AND I WILL SUPPLY A FRESH 12 MONTHS MOT FOR THE NEW OWNER!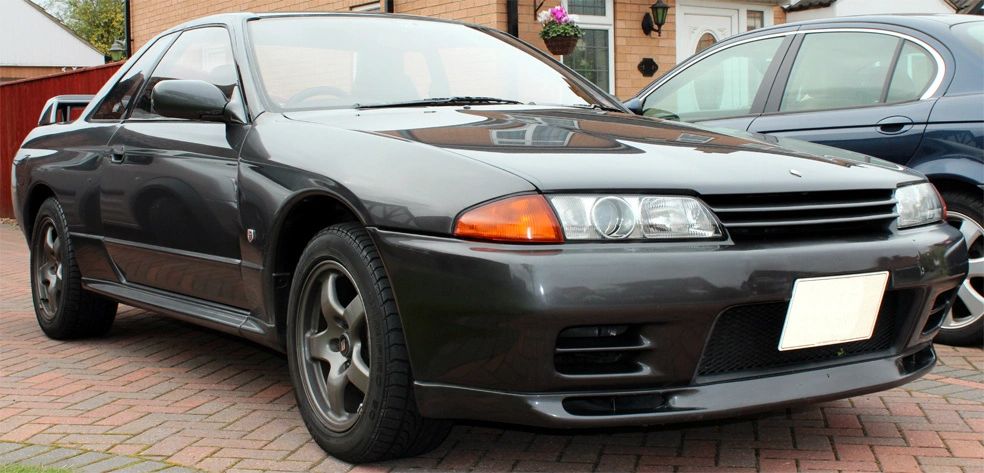 Read the Customer's Original Review below:-

Having had a lot of bad experiences when buying second hand cars, I was not looking forward to buying my first imported vehicle with all the additional pitfalls that comes with the process.
I viewed numerous skylines from different dealers, but each car was not as described in the advert to varying degrees and the photographs concealed the true condition.
After many wasted trips, I happened upon a Skyline advertised in the FastCarStore.
On speaking to the owner Greg, I made arrangements to see the car.
Differing from my previous experiences, I found the car to be in the condition as described in the advert, and in surprisingly better condition than the other cars I had viewed of comparable price. I was also accommodated with a test drive, which was sadly not available with other dealers.
The car was supported by extensive paperwork including history, receipts and the V5.
Greg was very helpful and a deal was struck. In the week that followed, Greg kept me fully appraised of the cars progress, as the speed limiter was removed and a fresh MOT done (sailed through with no advisories).

Unfortunately due to a stinking cold I was unable to pick the car up on the agreed date. In my place, a friend of mine picked the car up for me. He owns a skyline R32 GTR and an R33 GTR and is also the owner of an auto electric company which gives him a great deal of credibility when dealing with matters in this field. He gave the car a thorough once over and put it through its paces on the 100 mile journey home.

In his opinion, the car was one of the best examples he had seen and that it drove flawlessly especially considering it is 21 years old.
I would recommend to anyone thinking of buying an imported vehicle or who is sceptical of the process and the quality of the cars on offer to contact Greg before going anywhere else.
A happy R32 GTR owner. Chris C.

PLEASE TAKE TIME TO LOOK AT THE PICTURES AND CHECK OUT THE QUALITY.

IF YOU ARE INTERESTED IN A SIMILAR NISSAN SKYLINE R32 GTR THEN WE DO HAVE OTHERS IN STOCK OR YOU ARE WELCOME TO PLACE AN ORDER.

..............................................

This car really has to be seen to be appreciated. Only just arrived and has already passed its MOT and is registered and taxed.


Legendary RB26 2600 cc Turbo Engine.
5 Speed Manual Gearbox.
Stunning Gunmetal Grey paintwork.
Standard R32 GTR suspension.
Standard R32 GTR wheels and Like New Tyres.
Standard R32 GTR Airbox.
Standard R32 GTR interior.
Standard R32 GTR Steering wheel.
Recent new Slotted Performance Brake Rotors.
Recent new NISMO road clutch.
Recent new Front and Rear Shockers.
Front and Rear IMPULSE anti roll bars.
Jasma Stainless Steel Cat Back Exhaust with Blued Tip.
Black Leather with Red Stitching Gear and Handbrake gaitors.
Viper Alarm system fitted with Remote Central Locking.
Carrozzeria quality Radio/CD player.
M's Turbo Timer.
Front and Rear Strut Braces.

Have a look at the pictures and you will see that this is a Superb Standard Example.
Bodywork is sensational for a car of this age.

It is very rare to find an R32 GTR as standard and as clean as this example.
Low mileage standard examples of R32 GTR's are now very sought after with Japanese collectors and normally fetch very high prices in Japan.

We have just carried out an oil and filter change and checked the car over.
I test drove it and it really does drive beautifully......exactly how it should....not messed with like most. Perfect for fast road use. Strong smooth engine and gears.

Looking underneath this car it is in exceptional condition with no corrosion.
Paintwork is very shiny and hard to believe it is almost a 20 year old car.
Interior is very clean and unabused....original Skyline overmats from new...so carpet underneath is still like new.
Dashboard is perfect and does not have the normal sundamaged bubble on the passenger side. You will have to look at a lot of R32 GTR's to find an original unabused dashboard like this with never anything screwed or stuck to it.
Drivers seat does show some wear (they all do) but it is still considered excellent for it's age.
Mint original GTR wheels with excellent tyres with approx 6mm Tread.

Genuine rare car and good examples like this are starting to increase in value.

Please bear in my that this vehicle has a speed limiter fitted for use in Japan...therefore this car has NEVER been 'Thrashed to an Inch of its Life'. We will remove the limiter for the new owner.

As with all the vehicles that we sell we have checked this vehicle over in our workshop and we will also carry out an oil and filter change and standard service for the new owner.

The underneath of this vehicle is exceptional and there is no visible rust or corrosion. You will probably be aware that in Japan (dependant on the area the car was used) no salt is added to the roads in winter. Therefore many of the cars (but not all) imported from Japan are rust free.

A REAL headturner of a vehicle.

First genuine buyer to see this car will buy!


This vehicle has been professionally converted for UK legal use. Now has the speedometer working in MPH and also has a rear Fog Lamp fitted.
Can easily be altered back to KMH speedometer for Europe.

This car is available for viewing at our premises in the Lichfield area. Please email me if you wish to enquire about the car or would like to arrange a viewing. Anyone that travels to view this vehicle will not be dissappointed. I am not in the business of over describing a vehicle and getting someone to travel long distances and then waste their time.

I have been in the motor trade for most of my life and involved with Japanese Imports for over 12 years. I only sell quality cars and try hard to maintain our reputation for this.

Please feel free to ask all questions.
Genuine clean R32 GTR's are rare cars and do not come much cleaner than this.


Lots of R32's are out there for sale but many are well worn and you might end up buying rubbish.
For a quality car and ultimately more reliability and Peace of Mind, I believe it is worth paying a little extra.

Furthermore buying an Skyline R32 GTR that has already been used in the UK with it's Limiter removed will probably mean it has already been driven hard.

That is why a Fresh Import like this is worth its 'Weight in Gold'.

Looking for a serious Buyer.

NOTE:- We can also arrange to deliver this Nissan Skyline R32 GTR to any UK destination subject to advance payment for the vehicle as well as payment for the transportation at cost.

WE ARE ALSO WILLING TO ARRANGE TRANSPORT TO ANYWHERE IN EUROPE.

.......... SOME OF THE RECENT PARTS FITTED ..........