SUBARU LEGACY GTB 'E TUNE'


THIS CAR IS NOW SOLD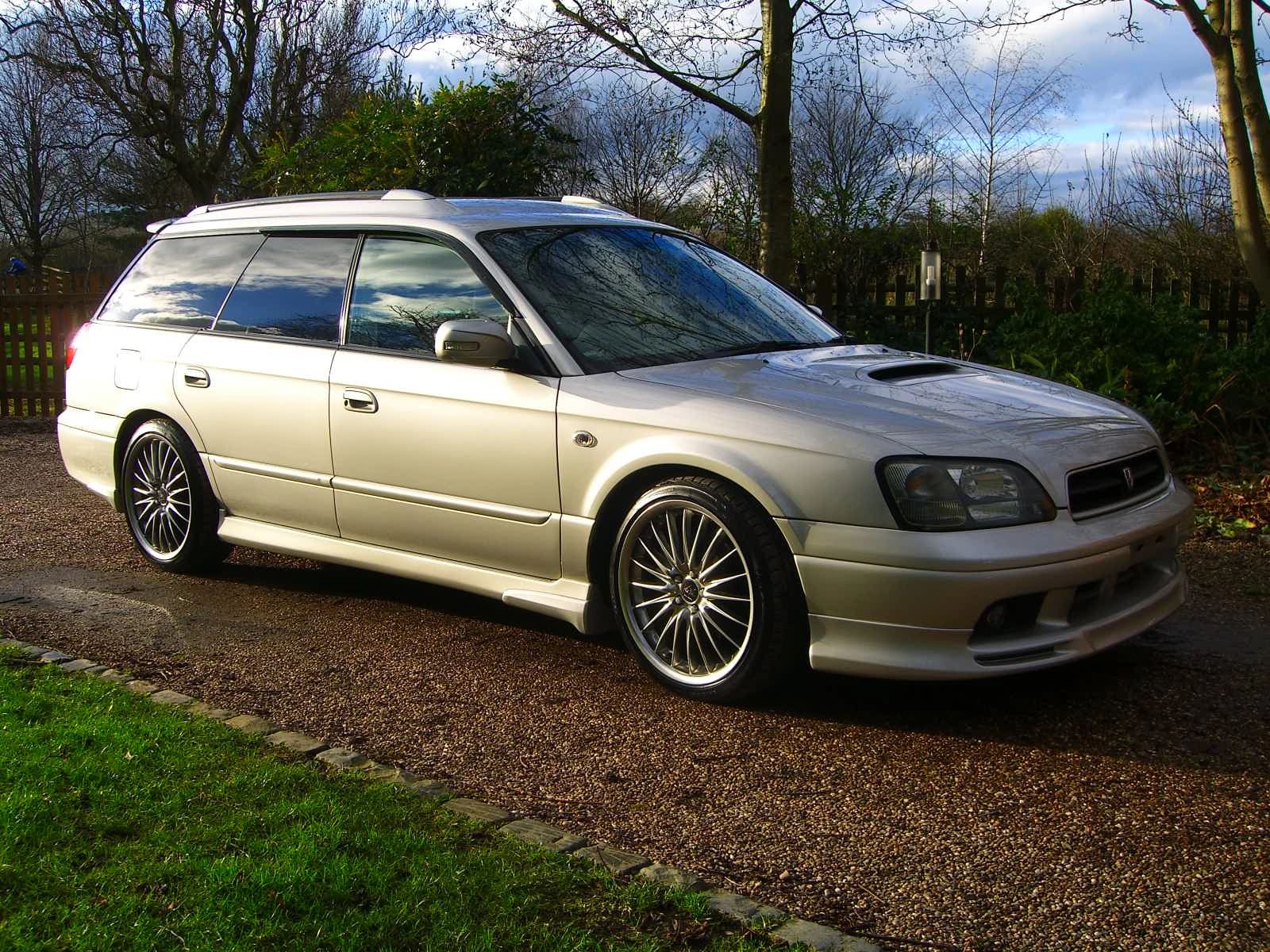 THE BEST LOOKING LEGACY GTB E TUNE YOU WILL SEE
Superb 2000cc EJ20 16V Boxer Twin Turbo Engine .... 4WD
280 BHP as Standard with Intercooled Sequential Twin Turbos
Semi Automatic Gearbox with Optional Steering Wheel / Sports Gear Change
plus Optional Manual Gear Selector
Factory Fitted BILSTEIN Suspension all round
18" VORTEC 'Black Chrome' Alloy wheels with matching excellent BRIDGESTONE 215 / 40 / 18 Tyres
High Level Rear Tailgate Spoiler
Aero Roof Rails
Factory Fitted HID Headlights (adjustable level)
Window Tints
Standard Half Leather Interior in Excellent Clean and Unabused Condition (just look at the drivers seat)
Factory Fitted Subaru MOMO Steering Wheel
Twin SRS Airbags
Superb SUBARU KENWOOD Stereo CD etc
Full Electrics including Drivers Seat and Fold in Electric Mirrors
Superb Clean Engine Bay
Retractable Load Nets behind the Rear Seats
Fully Retractable and Removable Rear Load Cover
Stainless Steel GANADOR 'Jasma' .... 'BLUED TIP' Exhaust System
Upgraded OEM Side Skirts with Spats and also Rear Bumper Spats
Superb latest style door mirrors with clear indicators.
HORNET / CLIFFORD 728C ALARM/IMMOBILISER
FLASHING DASHBOARD SCANNER DEVICE LINKED INTO ALARM
DEFI Boost Gauge with DEFI Controller
PIVOT Turbo Timer
Central Locking
................................................................................
E TUNE Gearbox has a longer final gear ratio giving lower revs at motorway cruising.
Plus it is Factory Tuned for better performance in lower gears.
E-Tune model is therefore sought after and uses 1 litre less fuel per 100km than the normal spec GTB cars.
With sensible driving E Tune model can still achieve 30mpg
REALLY STUNNING LOOKING VEHICLE
'ROYAL SILVER' Paintwork that is more like a Champagne Silver and is a rare colour.
Bodywork is in fantastic condition all round!

The EJ20 engine is smooth and strong and starts first time with no issues.
The car has just been serviced with engine oil and filters.

Service History from Japan
New Top Quality 12v Battery just fitted

.........................................................................................
Have a look at the pictures and you will see that this is a Stunning looking example.

Please bear in my that this vehicle had a speed limiter fitted for use in Japan.
Therefore this car has NEVER been 'Thrashed to an Inch of its Life'.

SUPER CLEAN UNDERNEATH WITH NO CORROSION ISSUES

This car is a real joy to drive.

.......... First genuine buyer to see this car will buy it ..........
THE CAR WILL BE SOLD TO THE NEW OWNER WITH A FULL MOT AND 6 MONTHS ROAD TAX INCLUDED
.......... POSSIBLE CHEAPER PART EXCHANGE WILL BE CONSIDERED ..........

This vehicle has been converted to MPH for UK now showing 59,000 miles.
This speedo can easily be converted back to run KMH depending on the customers Country requirements.
NOTE:- We can arrange to deliver this Subaru Legacy to any UK destination.
Possibly willing to meet European Buyers at Port.
All Subject to full advance payment for the vehicle as well as payment for any transportation at cost.